Meet The 2021 Christmas Arrivals!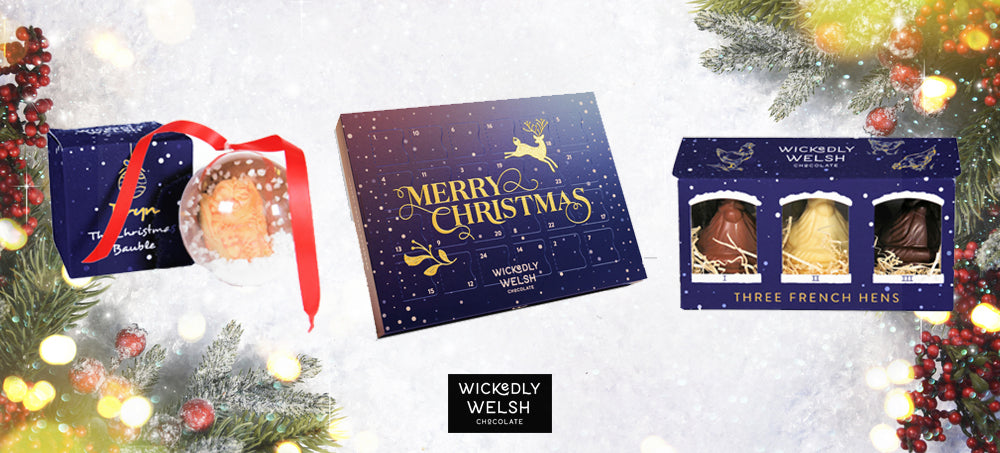 The wait is finally over, our chocolatey Christmas releases are perfected and ready to order! With Christmas just around the corner it's time to introduce you to our new Christmas releases and rest assured you're definitely in for a Wicked treat with these ones!
Why is chocolate really so important over the festive period? Not just the ideal gift for the chocolate lovers in your life, chocolate seems to be a routine choice for those tricky receivers you're not quite sure what to buy and a staple in stockings all around the world.
With chocolate being among one of the only gifts you're thankful to get multiple of, it's really no wonder chocolate is so widely gifted over the festive period. Not to mention it being the only day of the year its acceptable to eat an entire bar of chocolate for breakfast, lunch, and dinner- although, we would argue that should be acceptable any day of the year!
With all this being said, it's perhaps time to end the suspense and introduce all the wonderful new Christmassy treats we have to offer. We have been mixing, stirring, tasting, and moulding away in order to bring innovative new products for you, our cherished Wickedly Welsh customers to enjoy this Christmas. So, buckle up and get ready for a sleigh ride filled with magical chocolate surprise!
The first of our new Christmas creations is the Wickedly Welsh Advent Calendar! Countdown to Christmas the right way with a daily dose of Wickedly Welsh chocolate. A staple for the festive period, this Advent Calendar isn't like your usual one piece of plain chocolate a day, oh no, it's so much more! With tastes explosions hidden behind every door, this calendar will be hard to resist not tucking into as if it's just a box of chocolates. But hey, that's what our Box of 24 is for!
One to get both the kids and adults smiling is the beautiful baby dragon, Bryn. One we are super excited to announce, Bryn the adorable baby dragon is making his festive return! With so much love over the Easter period, it was only right to bring Bryn back from his hiding place in Pembrokeshire hills.
This magical creation displays Bryn in a half milk chocolate shell bauble with his own personal sugary snow flurry. The most magical of Christmas decorations Bryn can be hung from the tree and stared at in adoration until he just becomes way too irresistible not to gobble up.
Wickedly Welsh's chocolate take on the Christmas classic, 12 days of Christmas. Displayed in their own special Christmas coop, these hens don't only look the part, but they also taste incredible too! Signifying love, hope and faith makes these hens the ideal gift to send a sprinkle of Christmas sentiment to your loved ones in delicious chocolate form.
All Three French Hens come in a different chocolate flavour. Giving you the option of eating dark, white or milk chocolate, the perfect package for those who like nothing less than the best of everything!
So go on be wicked and get your hands on our new festive releases, sure to put a smile on any chocolate lovers face! The magic doesn't just end here, with some popular products making their return this Christmas make sure to visit the Christmas page for our full range of festive treats!
---